Have you outgrown your job scheduling tools?
If you like what you see, test it for free in your own environment for 30 days.
Reliably Automate Processes Across

IT & Business With The

Easiest-

To-Use Workload Automation
Effortless Implementation & Configuration
Easily integrate your business systems through our comprehensive connector library or Super REST API adapter for third-party services

Seamless Business Integration Made Easy
Provide real-time visibility of all processes and get early warnings with customizable alerts about issues and critical deadlines in one single dashboard

Join 100+ Companies We've Successfully Migrated
Experience a stress-free migration process with your dedicated team, proprietary transfer tools, proven approach, 24/7 support and training

The Easiest-To-Use Workload Automation

Platform In The Marketplace
Automate processes across your entire enterprise
Connect all of your business-critical systems and applications using our robust library of connectors from SQL Server, Informatica, FTP, SAP, Microsoft, and more
Get infinite extensibility to third-party services with our Super REST API adapter
Match your infrastructure strategy by deploying on-prem, in the private cloud or hybrid environments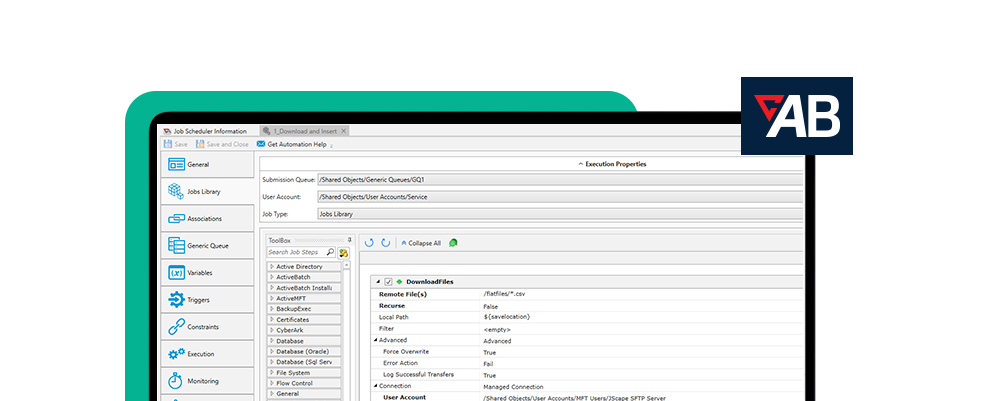 Amplify your team's impact with effortless implementation
Speed workflow development with intuitive, no-code/low-code drag-and-drop GUI
Roll out workflows faster by leveraging an extensive library of pre-built job steps and variables
Empower your business users to run and monitor their own workflows in the Self-Service Portal, without the need for IT support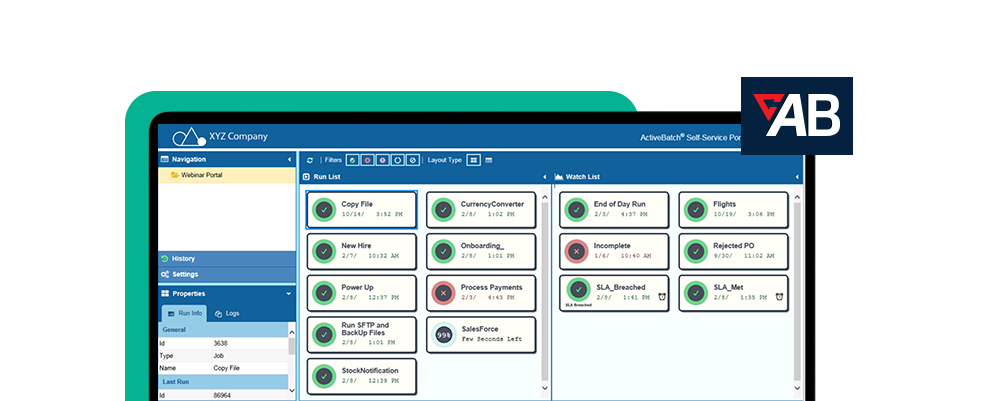 Enable efficient control with complete visibility, system management, notification and support
Enable efficient control with complete visibility and system management, notification and support
Meet IT and business SLAs with predictive monitoring of critical processes that automatically raises process priority and queue order for at-risk deadlines
Scale capacity for high-volume workloads cost-effectively, dynamically provisioning additional cloud provider virtual machines during processing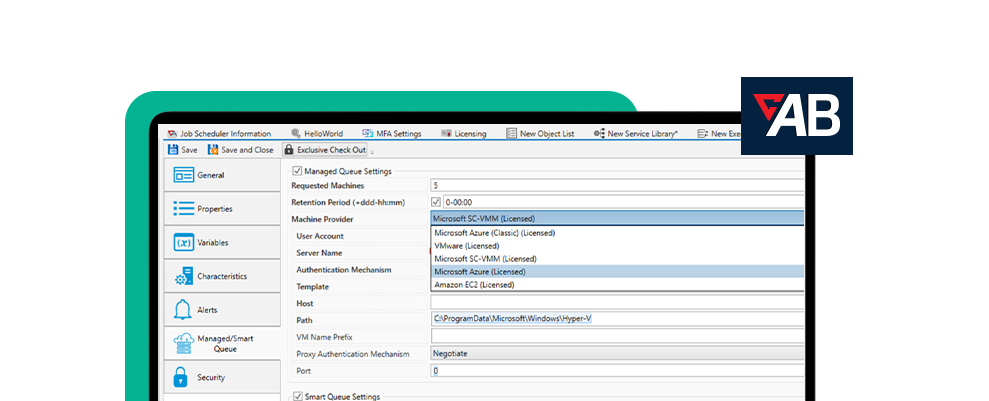 Have confidence in system security and compliance, continual updates & 24/7 support
Meet your security and compliance requirements with certifications for ISO 27001 and SOC 2, Type 1, encrypted connections and regular third-party penetration and vulnerability tests
Improve system and job performance with automatic Health Check scans that display recommendations for optimization through the Action Center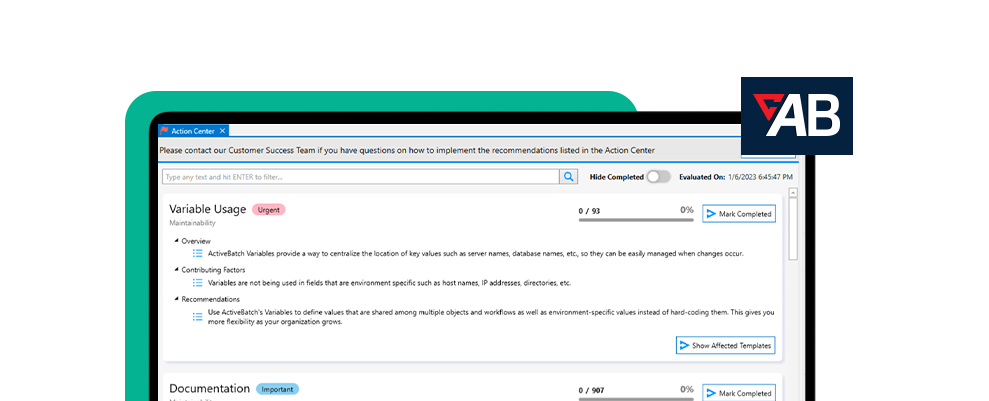 An intuitive web service connection designer to easily build integrations to any application with an API
Benefits
Teams can connect ActiveBatch to nearly any application or service – third-party or in-house
Greater flexibility to adopt and integrate new applications
Feature Functionality
Wizard-based REST API adapter authentication - Basic, NTLM and API Key-based authentication
An intuitive UI to add multiple actions to the connector
Credentials can be configurable through job steps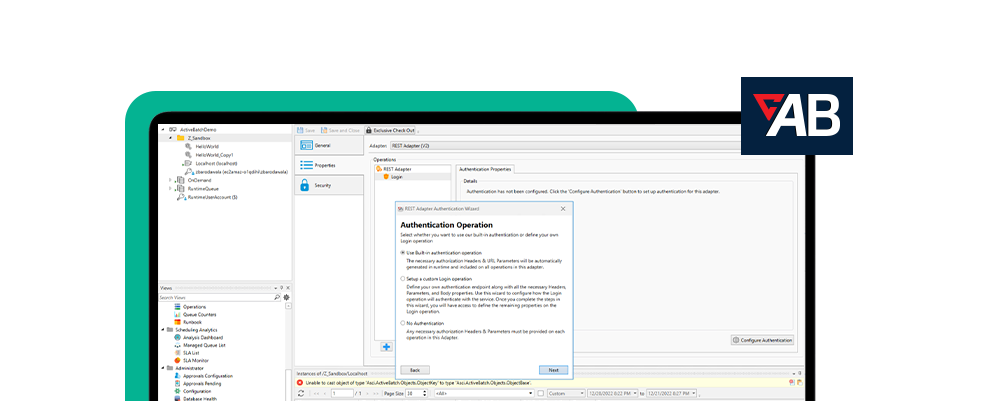 Integrated content library consisting of hundreds of production-ready job steps
Benefits
Intuitive UI makes it easy for less-experienced IT resources to build workflows
Use drag-and-drop job steps to build workflows in half the time
Feature Functionality
Connectors available for Informatica, Azure, AWS, Dynamics AX, Oracle, SAP, VMWare and more
Pre-built building blocks for commonly scripted actions
Protect existing scripts with lifecycle management capabilities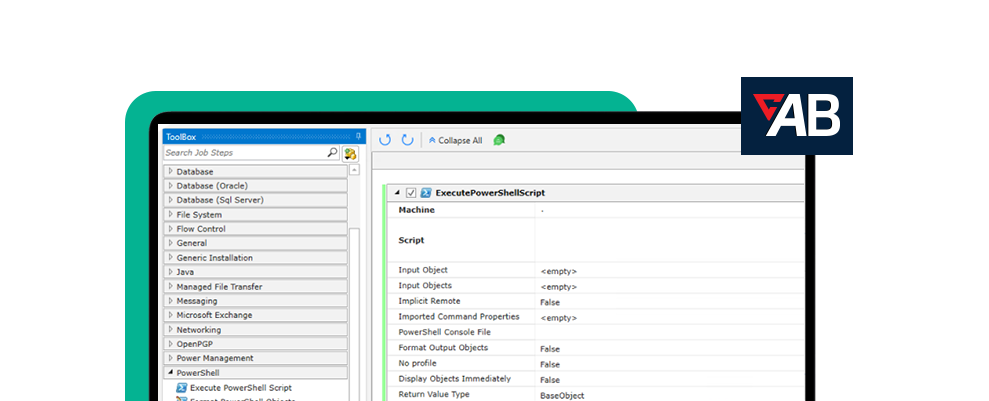 The Easiest-To-Use Workload Automation Platform In The Market
Easily create workflows and manage your critical business processes with an extensive pre-built jobs library
Proactive error detection and elimination. Get complete visibility into process success and audit trail for each execution.
Automate non-cognitive tasks to drive efficiency and focus human intelligence on value-add activities.
Architected for the Enterprise

Access ActiveBatch from any device with flexible interfaces that give you powerful out-of-the-box functionality and the ability to customize.
ActiveBatch Job Scheduler
The job scheduler is the brain of workload automation architecture, allowing you to build and orchestrate cross-functional workflows. It handles load balancing, scheduling, dependency checking, reporting and notifications.
Connect ActiveBatch to any server, application or service to orchestrate workflows that run jobs on endpoints across your entire stack.
Rich Content Library of 100+ Production-Ready Job Steps
Build and automate workflows in half the time without the need for scripting with ActiveBatch's comprehensive library of integrations and extensions. Simplify the creation of cross-platform workflows with prebuilt Job Steps for third-party applications, databases, and platforms on-prem, in cloud or hybrid environment.
Active Directory

Crystal Reports

CyberArk

Application Access Manager

Exchange Server

Oracle Job Scheduler

PowerShell

SQL Server Scheduling

Task Scheduler Automation
Informatica PowerCenter

Microsoft Azure

Amazon Web Service (AWS)

Dynamics AX

Oracle EBS & PeopleSoft

SAP NetWeaver

VMWare

ServiceNow

Teradata
Confidently Migrate To ActiveBatch With A Proven 3-Step Process Designed To Mitigate Risk
We've spent 30 years refining our migration process and have 1,000 successful migrations to show for it. Our team of migration experts have decades of experience and our proven migration tools allow us to confidently navigate the transfer of your workload automations while protecting your organization's operations.
Our dedicated migration team carefully maps your current procedures, then analyzes them comprehensively before developing a phased transition strategy. We start by migrating your organization's less risky processes, enabling your teams to build trust and familiarity with the migration process, before progressing to other workflows.
We assign a dedicated team
We work with you to prepare the environment
We give you access to ActiveBatch Academy
We begin by using a secure non-production environment to safely import and test your current workload automations. Our proprietary Mercury conversion tools efficiently transfer your workload automations, allowing your teams to gain hands-on exposure to the process and start building their ActiveBatch expertise.
Speed data import with proven tools for Control-M, Autosys, Automic and more
Start building your team's skills during the migration process
We conduct thorough acceptance testing and quality assurance (QA) testing to validate all processes. Upon approval, we move your automations into the production environment. We ensure successful implementation by following a comprehensive go-live checklist, guaranteeing a successful launch of your new platform.
Acceptance & QA testi

ng

Systematic production phasing ensures smooth operations
If it's digital, ActiveBatch can do it. We know this is a tool that we're going to
be able to build, that we can go as far as we want to go and it's going to be able
to handle our needs.
Steve Schneider, System Administrator and Automation Spectahst. First Rate
Request ActiveBatch

Pricing
Complete the form to get your personalized, no-obligation ActiveBatch price quote.
Simple, usage-based pricing.
Easily scale as you grow your automation.
Industry extras, included free.
Change management, auto-remediation and a complete managed file transfer suite are included out-of-the-box.
Enterprise-grade features for all.
All configurations include unlimited users and highly-flexible development environments so you're prepared for whatever comes next.

Ready To Simplify Your Workload Automation?
Our experts will run your actual jobs in ActiveBatch so you see how it simplifies your automation environment. Get your questions answered as you see how easy it is to build and maintain your jobs in ActiveBatch.